March is Bleeding Disorders Awareness Month: The Ties that Bind –
The Red Tie Challenge
Published on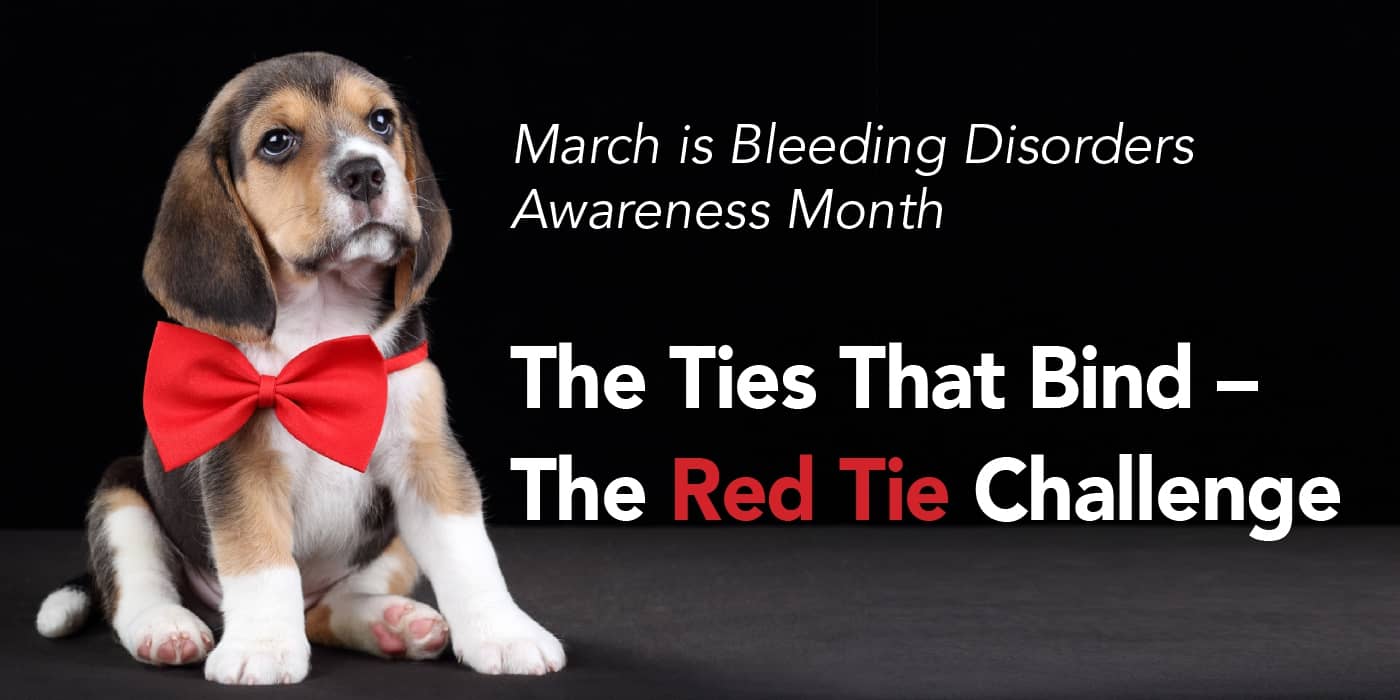 March 2016 observed the first Red Tie Challenge initiative started by the National Hemophilia Foundation. The challenge involves recording your best red tie look and challenging others to do the same,using a social media platform such as Facebook or Twitter. It was started with the hope of raising awareness about the severity of bleeding disorders and to highlight their lack of proper treatment in most parts of the world. A red tie was chosen to represent this movement because red symbolizes blood, and the tie 'binds' us with each other. Get that red tie out of the closet this month and show your support! Follow us on Facebook and Twitter to see how PreventionGenetics employees are participating in the Red Tie Challenge throughout the month.
Types of Inherited Bleeding Disorders
Inherited Bleeding Disorders (IBD) are due to an inability to form blood clots with symptoms ranging from life threatening bleeds to only excessive bleeding following trauma or surgery. Common IBDs include Hemophilia and von Willebrand disease and affect about 1 in 5000 and up to 1 in 100 live births respectively (Center for Disease Control). Other IBDs include coagulation factor deficiencies and platelet disorders. Platelet disorders include diseases such as thrombocytopenia where platelet counts are decreased and Bernard-Souiler Syndrome where platelet function is impaired (Peyvandi F. et al. 2013).
Genetic Testing for Bleeding Disorders
There are over 50 different genetic causes for IBDs (Simeoni et al. Blood. 2016). At PreventionGenetics we offer a large Bleeding Disorders Panel as well as smaller panels specific to coagulation or platelet disorders: Coagulation Factor Deficiency Panel, Thrombocytopenia Expanded Panel, Platelet Function Deficiency Panel. Our test menu also includes specific IBD disorders as well such as Bernard-Soulier Syndrome, Hermansky-Pudlak Syndrome and Wiskott-Aldrich Syndrome. Check out these and more of our Hematology and Immunology tests.
Citations:
Peyvandi F. et al. 2012. Haemophilia. 18 Suppl 4: 148-53. PubMed ID: 22726099
Simeoni I. et al. 2016. Blood. 127: 2791-803. PubMed ID: 27084890