Utilization Management
Teamwork Increases Value of Genetic Testing
Utilization management is a current topic of particular interest in the realm of genetic testing. For many hospitals and health systems, the cost of sending out genetic tests is high (often > $1 million per year) and increasing at an annual average rate of about 20% (PLUGS&reg). Through utilization management strategies at PreventionGenetics, over 1.3 million healthcare dollars are saved annually (see Figure 1).
PreventionGenetics is proud to be a silver sponsor of Pediatric Laboratory Utilization Guidance Services (PLUGS&reg), which shares our value philosophies. "Genetic testing should enhance the quality of clinical care for the patient," says President James Weber, Ph.D. "PreventionGenetics also believes that genetic testing should be affordable and has maintained prices that are among the lowest in the industry while keeping quality our first priority," Weber added.
To see just one example of how we are committed to providing comprehensive, high quality, and affordable genetic testing, see an excerpt from the PLUGS&reg case of the week, which demonstrates an example of how a tiered Sanger test was converted to a NextGen sequencing test saving up to $2290 (see Case of the Week and Figure 1 for the percentage of tests converted to NGS testing as one of our UM strategies below).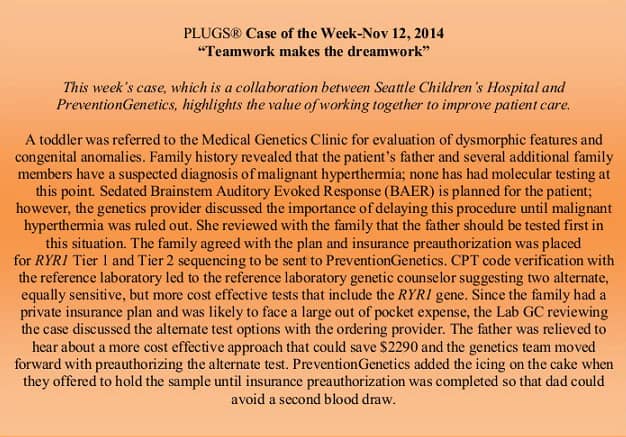 To see more UM cases, click here.
UM CASE 1:
Our lab's insurance team received a pre-authorization request for seven (yes, 7!) individual gene tests for one patient. The total price would have been $7,930. Upon review of the request, UM bells went off with our insurance team. Our team reached out to the client and offered to pause the pre-authorization process to have one of our genetic counselors (GCs) review the case. The laboratory GC discussed the case with the client, who agreed with the creative solution of a customized panel that met the testing needs. The customized panel (a Next-Gen Sequencing panel) had complete coverage of the seven genes and saved $5,000 in healthcare dollars, as well as decreased the turn-around time. Four similar requests have since come from the same client. This has resulted in total healthcare savings of over $23,000.
UM CASE 2:
A hospital in a small city that lacked a genetics department began ordering more genetic tests. A PreventionGenetics sales Genetic Counselor (GC) arranged a meeting with the individual in charge of laboratory send-outs. Unfortunately, the send-out person had very limited knowledge of genetics and did not understand the differences between various testing approaches. Their approach to choosing a genetic testing laboratory was to identify the least expensive test available at any lab for the desired indication, regardless of the technology used for that test. By chance, on the day of the sales visit, a physician in the hospital requested single gene testing for a specific spastic ataxia. Based on price alone, the technician was planning to send the sample away for single gene del/dup analysis, as it cost less than sequencing. The PreventionGenetics GC was able to explain the difference in clinical sensitivity between sequencing and CNV analysis. Additionally, given the ethnic background of the patient, there were two founder variants that contribute to a large proportion of pathogenic variants found in that population. After this discussion, the lab send-out technician ordered testing for the two founder variants for a lower cost, with the option of reflexing to full gene sequencing. If sequencing did not reveal the pathogenic variants, then CNV analysis would be considered.
By starting with the test with the highest clinical sensitivity, the chances of a diagnosis at a lower cost increase. For this particular test, the strategy of starting by looking for the founder variants has the potential of saving between $320-2280 per case. Additionally, the PreventionGenetics GC was able to educate the laboratory technician, who gained a better understanding of the benefits and limitations of various genetics testing approaches. Knowing that starting with the lowest cost test is not always the most efficient, will lead to significant cost savings for this organization.
UM CASE 3:
A patient with Alport syndrome was in need of a kidney transplant. The clinician sent his patient's specimen to PreventionGenetics for testing and ordered the full Alport syndrome panel along with del/dup testing. During the test preview process, Dr. Wuyan Chen and our Genetic Counseling team discovered that a pathogenic variant in the X-linked gene COL4A5 had already been identified through a research study of the patient's family.
With permission from the ordering clinician, we were able to convert the panel test to targeted testing resulting in a cost-savings of over $2000. After confirming the pathogenic variant in the affected patient, we were able to provide assurance to the family and clinician that the patient's son (potential organ donor) was not at risk for Alport syndrome. An invasive kidney biopsy was avoided for the son, adding even more value.
Our largest contribution to saved healthcare dollars comes from our "Reflexive Testing" option. Unless specifically requested to perform concurrent testing, our standard is to perform reflex testing, starting with the gene of highest clinical sensitivity or starting with the first test requested by the ordering provider. Upon review of the test order, if an alternate, more cost-effective approach is available, our PhDs or genetic counselors will consult with the ordering provider to discuss the option. For example, if Duchenne Muscular Dystrophy gene sequencing is listed on the requisition before deletion/duplication studies, we would consult with the client to switch the order given clinical sensitivity of each test, potentially saving $1790 if the sequencing reflex is not needed.
As indicated in Figure 1, we also save healthcare dollars through cancelling duplicate or changing incorrect test orders. When a duplicate request is received, we consult with the client prior to starting, which often results in a cancelled test saving not only the full cost of the test, but also a likely unhelpful, duplicate clinical report. Through our testing review process, tests are also often cancelled and/or changed as a result of incorrect test order. Genes are often close in spelling, and we have caught ordering mistakes where TGFBR2 Test Code was listed, but we suspected that TGFB2 was actually desired based on information in the paperwork. By catching this prior to test initiation, $710 was saved on performing an incorrect test. Additionally, when full testing work-ups are ordered simultaneously for multiple family members, we offer to hold a sibling or parent's testing pending the proband's result with hopes to convert a full work-up to a targeted family study for relatives, and sometimes negating the need to perform family testing if the proband is negative. We add value to patient care by offering these testing services:
- Review of all test orders to ensure appropriateness and cost-effectiveness
- No-cost targeted testing for pathogenic, likely pathogenic, and uncertain variants in family members of patients tested at our laboratory (Family Testing)
- Single gene testing options
- Sequential testing for cost-effectiveness
- NextGen sequencing panels focused on disease clusters (NextGen Panels Available)
- Maternal cell contamination studies offered at no added cost
- Customizable sequencing panels
- Comprehensive test descriptions with clinical sensitivity information
- Published and transparent test prices
- Consultation with molecular geneticists and board certified genetic counselors (Contact Us)
Figure 1. Through our UM strategies and previewing test requests, we have saved healthcare dollars in various ways, including reflexive testing strategies, offering ordering providers more cost effective testing options, flagging duplicate test requests in our system, and previewing test requests for appropriateness. Figure shows the percentage of savings by category.
It takes teamwork to increase the value of genetic testing. Put us to the Test.
PLUGS is a Seattle Children's Hospital activity whose mission is to reduce test ordering errors on children and adults in the United States and decrease the financial burden of unnecessary testing on families. PLUGS began in 2012 in response to patient complaints. Since then PLUGS has grown into a national collaboration whose vision is to be the #1 provider of lab test utilization management tools in the United States. PLUGS&reg helps hospital laboratories and practitioners by providing best practices for implementing a utilization management program to fulfill their mission. On average, PLUGS&reg members who have implemented active UM programs recognize a savings of at least 10% on their total send-out costs. For more information about PLUGS&reg and how to join, visit http://www.schplugs.org/.