Oh Baby! September is Newborn Screening Awareness Month
Published on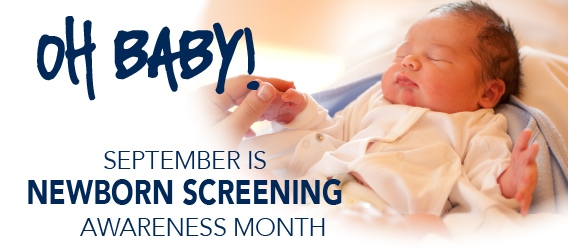 September may be winding down, but it is never too late to learn more about the utility of newborn screening programs. Each year, nearly 4 million babies are routinely screened for certain genetic, metabolic, and endocrine disorders prior to discharge from a birthing center or hospital using only a few drops of blood from the newborn's heel as part of large public health programs. Healthcare professionals use the newborn screen as the first step towards providing lifelong care, but often additional testing is needed to confirm a diagnosis. Genetic testing is an ideal follow-up test that also can provide data for testing of family members.
Our test menu offers testing for over 1000 genetic conditions, including nearly all on the various newborn screening panels. See our Newborn Screening Test Menu next time your patient needs genetic testing in follow-up to a positive newborn screen.
For disorders on newborn screening panels, genetic testing decreases morbidity and mortality from genetic disease and improves outcome and quality of life. In some cases, disease and disability may be prevented entirely, while in other cases it may only be currently possible to delay the onset or reduce the severity of disease. To put it simply, newborn screening with confirmation through genetic testing can save babies' lives and provide them a healthier start in life.
Oh Baby! Put us to the test.