A partnership to fit your needs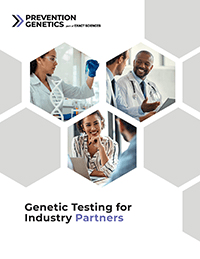 Download Brochure
PreventionGenetics (PG) delivers expertise, quality, and value in every aspect of operations. We have developed an industry-leading test menu that spans the full range of inherited disease and is customizable to meet each partner's unique needs.
PreventionGenetics is a full-service, molecular genetics laboratory with a wide variety of partners, including (bio) pharmaceutical and biotechnology companies, contract research organizations (CROs), non-profit organizations, government agencies, universities, as well as clinicians and researchers seeking routine genetic testing.
We are a globally focused laboratory serving more than 85 countries around the world with extensive experience in international sample logistics. The diversity of samples received is reflected in the richness of our internal genetic database.
Our experts include over 25 PhD level Geneticists, a team of Genetic Counselors, and an MD-level Medical Director. These experts are available to assist in designing genetic testing programs, educate on genetic disease, and support everything from ordering test kits to understanding test results.
Partnership Opportunities
Patient Identification
Clients investing in these highly customizable programs typically have challenges identifying individuals with (ultra) rare genetic disease and their clinicians, or have products in development that have indications tied to genetic health status (i.e. gene therapies). Patient identification programs are also useful when focusing on diseases that are difficult to clinically diagnose without genetic testing. View our current sponsored testing programs here.
Research and Development Pipeline Support
It has been well-established that genetic variation may affect drug efficacy. Investing in genetic testing during therapy development may impact the overall direction of preclinical work, potentially including a shift in the target patient population.
Clinical Trials
These programs identify individuals who meet clinical trial inclusion or exclusion criteria based on the individual's genetic health. PG has extensive experience partnering directly with the trial sponsor, as well as working in collaboration with the sponsor's CRO.
Non-Profit Genetics Testing
While the number of therapeutic interventions for genetic disease remains limited, the number of undiagnosed individuals with genetic disease continues to grow with the world's population. To address this disparity, an increasing number of non-profit organizations have been established to support individuals with genetic disease and their families. Many of these organizations fund innovative research and genetic testing for individuals who otherwise might not have. PG has formed partnerships with several non-profit organizations in support of the growing genetics community.
Government- and University- Funded Programs
PreventionGenetics is pleased to partner with government agencies and universities throughout the world. These programs vary greatly in design, address unmet needs, and represent an opportunity to be innovative, while also serving the community.
Other Services
PreventionGenetics offers several ancillary services, including:
DNA banking
DNA isolation
Database mining
Accreditations
Patient Identification
CLIA and ISO 15189:2012
US State-level certifications:
New York
California
Maryland
Rhode Island
Pennsylvania
Contact Us
Email us at partner@preventiongenetics.com.
Call us at (715) 387-0484 and ask to speak to a member of the Business Development Team.